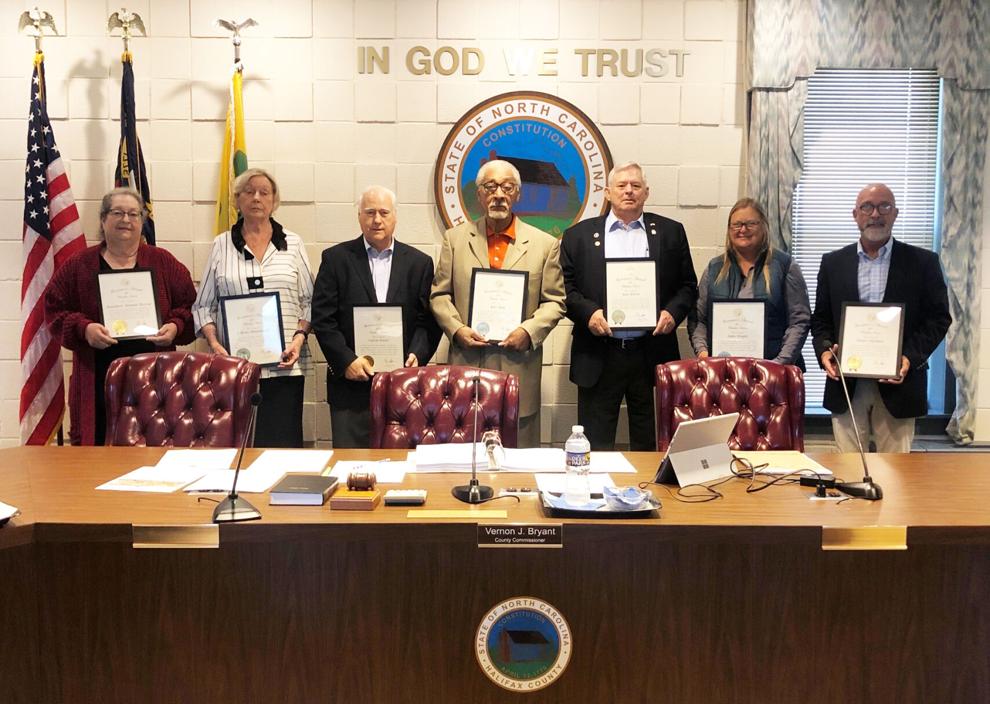 HALIFAX — The North Carolina Commission on Volunteerism and Community Service recently recognized eight outstanding volunteers in Halifax County with the 2023 Governor's Volunteer Service Award. The Governor's Volunteer Service Award recipients were presented with certificates and pins during the Halifax County Board of Commissioners meeting on Monday.
According to a press release from Christina Wells, assistant county manager, the 2023 award recipients are J. Rives Manning Jr. and T. Patrick W. Qualls, Halifax County Board of Commissioners; Bob Clark and Calvin Potter, Halifax-Northampton Regional Airport Authority; Taylor Hawkins, Roanoke Valley Chamber of Commerce; Jodie Knight, Halifax County 4-H and Halifax County Horse Council; Ken Wilson, Halifax County Library System Advisory Board; and Rainbow Animal Rescue.
Manning and Qualls both left their service as Halifax County Commissioners in November. Although they are no longer physically serving on the board, their legacy continues.
Manning served on the Board of Commissioners for 20 years, including 13 of those as vice chairman. He always asked the hard questions and was never afraid to offer a differing point of view, the release reads. He led the charge to locate a beautiful display of the founding documents of our nation — the Charters of Freedom — on the lawn of our historic courthouse. The Charters of Freedom include the Declaration of Independence, the Constitution and the Bill of Rights, but Manning liked to say Halifax County has the only complete set because he advocated for our display to include the Halifax Resolves.
Qualls served on the Board of Commissioners for eight years. He also asked tough questions to ensure the county was being a good steward of taxpayer dollars and to guide the county in doing the work that counties are statutorily given authority to do. He was a wonderful advocate for citizens, rural communities and small businesses.
Clark and Potter have dedicated more than 20 years to the improvement of the Halifax-Northampton Regional Airport. The small airport once located in Roanoke Rapids was an aging facility. Both men served in an advisory capacity to the former airport and laid the groundwork to help it grow and develop into the new facility located near Interstate 95 and Halifax County's industrial center. The HNRA is now supported by three local governments and is an active general aviation airport with regular flight and fueling activity, hangars for lease, a crew car, and a modern terminal and meeting space. Without the foresight and dedication of Authority members like Clark and Potter, this airport would never have become the economic development engine it is today, the release reads. These men are magnificent advocates of aviation and champions of Halifax County.
Hawkins has served on the Roanoke Valley Chamber of Commerce's board for the last three years. He served two of those years as chair. He has rarely missed a Chamber event, dedicated in his service and always willing to step up to do whatever will help the Chamber to be successful. Taylor also serves as a lay leader of Tabor Methodist Church and in a leadership capacity on most of the church's committees. He is a member of the State Employees Credit Union Advisory Board. He truly cares about his community. He is a Halifax County native, and he works hard to give back to the community in his career, his volunteer service, and his family life.
Knight is a very dedicated 4-H Volunteer Leader of the Tuff Riders 4-H Club, willingly giving of her time to provide opportunities and support for youth to develop many important life skills that will enable them to become confident and successful adults. In 2022, her 4-H volunteer leadership accounted for the following: additional participation in 4-H Horse Bowl, Hippology and Horse Judging events at all competition levels, 4-Hers increasing their public speaking skills by making presentations at all competition levels, offering support and encouragement of one youth to be the Halifax County representative at Youth Voice, coordination of several community service projects for her 4-H Club to give back to their communities, and always having an "open barn" policy for her 4-H Club members to hang out, learn work ethic and improve social skills while sharing their passion for horses. Knight also serves as the volunteer chair of the Halifax County Horse Council, an organization that works with Cooperative Extension to provide education, events and resources for the equine community, always striving to promote the equine industry in our area and better engage the public.
Wilson has been a dedicated member of the Halifax County Library System Board of Trustees for more than a decade. He started as a representative for the Halifax Branch and became the Chairman of the Board in 2013, the release reads. The meetings were held on a quarterly basis each year, and he very rarely missed one and was flexible about the schedule when the dates needed to be changed. Even when the HCL Board of Trustees was not meeting due to COVID-19 restrictions, he checked in with the HCLS director to see how things were going. During the years they were meeting, he also assisted the staff with several Veterans Day programs throughout the Halifax County Library System. When he was unable to lead a program, he volunteered to put up displays at the different libraries to showcase the importance of recognizing veterans. Wilson volunteered to served five back-to-back terms on the HCLS Board of Trustees, four of which he served as the chairman of the board. He is deeply dedicated to the community and nation, serving for many years and in many capacities with the state and local Sons of the American Revolution. Along with Manning, Wilson was also instrumental in seeking support and donors for the Charters of Freedom display.
The volunteers at Rainbow Animal Rescue have been providing exceptional service to our county that is vital in reducing our volume of pet euthanasia. They are able to keep animals longer than Animal Control is able to, due to limited space, and they provide profound assistance in both adopting out pets or placing them with other organizations that can assist in finding appropriate homes. By assisting with this process, Animal Control officers are able to spend more time out in the field to protect the health and welfare of county citizens and animals. The volunteers are truly dedicated folks who are passionate about their work and the many animals they have ensured received a second chance.
They are always available and willing to do whatever it takes to save a viable pet, the release reads. They provide the best possible environment for adoptable animals, as well as consistent love and attention.
The Governor's Volunteer Service Award honors people, like the eight Halifax County award winners, who have shown concern and compassion for their neighbors by making a significant contribution to their community through volunteer service.
The award was created in the Office of the Governor in 1979.